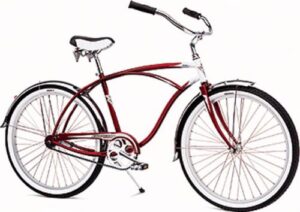 The Stolen Bicycle
I had a nice bike for several years. I bought it at Toys-R-Us. Disc-brakes, shocks and on sale.
Just the other day someone remarked that my bicycle was missing. I said, why wouldn't they steal the other bikes. They remarked that the other bikes were registered with the police.
I Just started re-using it after a long hiatus. Too bad I was getting into shape and it was convenient.
Why does G-d send Difficulties?
Why me? Why me? 🙂
G-d has reasons for every good thing or thing that looks bad that happens to us.
If you want to understand the way the world works or why good things happen to bad people or why bad things happen to good people remember this:
G-d conducts the world with Middah Keneged Middah. Measure for measure. You do good – you receive good and vice versa.
But we are not all great at recognizing it. I sometimes attribute my sufferings to certain of my failings. And it comes out pretty accurately. Sometimes the sufferings are direct or indirect. Meaning our suffering may attain the person directly or may be due to the sufferings of others around us. (Some, on higher levels of Torah spirituality, may ask if the sufferings of the world are due to their failings)
Why is G-d Punishing Me?
A woman recently called me. She told me she was having many difficulties – no job. her daughter was doing things that pained her. she did not have an apartment. I consoled her and explained that G-d loves each person. G-d just wants us to live a better life. So He sometimes sends "corrections" – situations that will eventually lead a person to live a much better life than they are presently living. A person has to be wise enough to listen to G-d's daily messages.
The World Made for You
If the world is made for each person – the world might suffer for someone's failings. What are failings? I found out the hard way that failings are doing things that are contrary to Torah.
Knowing What is Right & What is Wrong helps one to Remove Sufferings
Unfortunately – i discovered i had many failings. But I was ready to correct them slowly but surely. I am still working on my failings – but I am a big step ahead than I was before. Why? Because I recognize what is right and what is wrong. If one does not recognize this – it is more difficult for one to correct themselves. It is a bit like shooting in the Dark.
Each Jew is responsible for one another. If one Jew suffers the others suffer. If a Jew rejoices another does too. If one does good the others benefit. And vice versa.
When i was a teenager – I experienced sufferings. My sufferings became my teachers. I learned from experience the reasons for suffering. It helped me to cope through the hard times.
The first question one should ask – if G-d surely loves us – why does he allow suffering. We will avoid the philosophical discussions – but below are some basic reasons.
So back to my bicycle – why me?
There are 7 basic reasons for suffering.
G-d is settling accounts for what a person did in the past. If we steal from others – others might steal from us. It could be a past deed from this life or a past deed from a previous life. When one repents sincerely to Hash-m the bad deeds are erased. The solution : Don't do the same deed that was done to you. Do Teshuva / Repent.
G-d is sending a message to the person to repent. At times a person is totally off-track. Off track – meaning that their values are out of sync with the values of Torah. G-d is sending them a message to get back on track for their own good. The solution: Learn what the Torah expects of a Jew or a Gentile and get back on track.
G-d wants you to Pray to Him – At times a person prays to G-d but is not answered. G-d loves a person and desires his or her prayers. So don't give up praying. G-d eventually will answer.
G-d wants you to develop a relationship with him. G-d wants a relationship with His Children. Many a time people have a very good life. Children. A good job. A nice family. All the food and amenities they need, but they ignore or some even "diddain" G-d or the Jewish people. Why? Because they are happy with there lot – no need for Torah or spirituality – they think. So G-d may send a wake up call – to awaken them from their slumber through the medium of suffering. Then the person turns to G-d for help and prays for respite from suffering. Then they develop a relationship with Him. A solution to this is to always be thankful for the good.
We have a synagogue that is next to a playground. Many pass by ignoring our synagogue. I see the beautiful children and all the good the families have. I ask myself – does it not enter these people's minds to come in to say thanks to G-d for at least some of the good they have.
G-d is testing person to see if they will remain faithful to Him even in trying circumstances – a trying circumstance is not necessarily suffering. It could be doing the right thing when your friends or the society are going against the morality of the Torah. That is a trying circumstance.


G-d wants you to grow. A person sometimes has a trying circumstance. G-d might want to build you. If you think about it G-d knows what is best for the spiritual growth of the person. Thus he puts them in certain situations so that after surmounting the difficulty – they will become a better wants a person to define himself or herself. When a person dies – they remain the same forever. What they became is how they will remain for eternity.
G-d wants you to put in More effort – I know someone who complains – Why Me? Why did I not get a good job? Why did I not find a good match? All kinds of "why me?" statements. I ask him – did you try to apply for a job? No. Did you try your best to get a job? no.I told him – the first step is to make the proper effort and pray to Hash-m for a Job. The way that G-d conducts the world is that one makes an effort to achieve their goals. But the fact that the goals are achieved are ultimately in the hands of G-d. But the minimum requirement is to make a concerted, serious effort towards your goal.
G-d Sends Good in All Situations
G-d does everything for the Good of a person. A person just has to be creative enough to find a reason why whatever happens to them is good. Like the man who stepped on a rusty nail before a business trip – in which the Doctor forbade him to travel.In the end the ship that he was scheduled to travel upon sank.
Developing a Positive Attitude
Look into the reasons for difficulty and you will find a positive reason for each difficulty and challenge. Like the ones above. Many come to the conclusion that certain situations are good and certain are bad. That is inaccurate. All situations are sent by G-d. All situations that G-d creates are good. They might be difficult situations – but their must be good in those situations because G-d / Hash-m is all good. The person with a positive attitude tries to find good in all situations whether they are pleasing situations or difficult situations.
Cherishing Suffering – a higher level for the Elite
The Torah does not condone provoking self-suffering. Hash-m should save us from it. King David "cherished" suffering. Why? Because he felt that when he was pained – he felt a closer connection to G-d. G-d is close to those with broken heart and many feel this. When I look back at my suffering as a teen – I remember the closeness I felt.
Appreciating the Good of Life
A person living a Torah life appreciates the good that G-d / Hash-m gives on a daily basis. We say thanks. We appreciate. We have a closer relationship with G-d. We live more wholesome lives and better achieve our purpose in the end.
Living & Dying with Purpose
Many think dying is the worst that could happen to a person. Everybody dies. Truth is that that is not the worst thing. Dying without a purpose is the worse thing. Torah gives a person purpose – in dying and in living. Purpose for every act and purpose for every world of Torah studied. It turns a life following the pursuit of vain pleasure to a life that is full of purposeful pleasures. Allowing a person to maximize their potential in life and achieve their purpose in the end.
Every Pleasure has a Permitted Substitute
For all pleasures in the world that are forbidden in the Torah there is a substitute permitted pleasure. Examples abound. The Torah forbids Jews from eating pork and thus bacon. There is a kosher substitute made of Turkey that tastes like bacon. Shrimp and shellfish are forbidden to Jews. Kosher substitutes exist.
Pleasure with Purpose vs. Vain Pleasures
If you look at each prohibition – you will find a substitute. Each prohibition in Torah is usually prohibits pleasure without purpose. The Torah gives each a substitute that makes it a pleasure with purpose.
Thus every act that a person does can be a meaningful act through following Torah. Jews – their 613 commandments and Gentiles their 7 commandments.
Preparation for Rosh Hashana
We are approaching the New Jewish Year. Now is the time to get on track to see how we can transform our average lives into more purposeful and meaningful lives. That is one of the goals of Teshuva (literally Returning in Hebrew) / Repentance in Judaism – to return to a life of purpose.
Choose Life
The Torah itself tells you straight out saying "Choose Life!" What is life? Pleasure with purpose – for the sake of serving G-d. Every act done to serve G-d becomes a purposeful act and one lives (and eventually dies) with a purpose.
We should all live long purposeful lives. Amen.