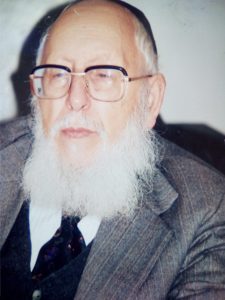 A man is known for what he accomplished in this world. If he is beloved here, he is beloved in heaven. We come for a short while to accomplish our purpose and return to the eternal world. We hope we will accomplish that for what we were sent here. We learn from the great sages. They serve as an example to teach us the proper way to act in life and with people. Our Torah learning is not complete without the Torah sages. A person cannot become a Torah sage unless he has served other Torah sages.
Rabbi Aharon Monsonego, Former Chief Rabbi of Morocco, passed away yesterday, at the Shaare Zedek Medical Center. In recent years the rabbi lived in Jerusalem after suffering a severe stroke. He lived his final years in Israel due to his age and health. His family lived in the Bayit Vagan neighborhood of Jerusalem and the ultra-Orthodox city of Modi'in Illit. He was 90.
Rabbi Aharon, was one of the founders of Otzar HaTorah in Morocco. He stared a series of Torah day schools for the population in Morocco. He raised funds and organized the schools in many cities. He helped start many Yeshivot. He raised money to publish Jewish sefarim / books. He was the head of a synagogue in Casablanca, Morocco.
His wisdom was sought by the common man and great Rabbis – like Rav Ovadia Yosef, former chief Rabbi of Israel. They were in continuous contact regarding certain cases dealing with the laws of agunot and mamzerim held in the Jewish court of law / Beit Din. He was held in esteem by Rabbi Shalom Mesas, for chief Rabbi of Jerusalem and other great sages. Rabbi Amar, former Chief Rabbi of Israel, was his student. In addition, the king of Morocco valued the rabbi, seeking advice from him. He was invited to official events at the royal palace in Rabat, the capital of the city.
Rabbi Aharon Left his home as a young teenager, to study in Aix-Les-Bains, France in the Yeshiva of Rabbi Haikin, a former Talmid / Student of the Chofetz Chaim. He was there after World War II and the Holocaust where many Dislodged Rabbis made a stop in Aix-Les-Bains to travel back home. He interacted with many great sages, like Rabbi Mordechai Pergamansky and others.
He did Mesirut Nefesh / Soul-giving efforts to further Torah education in Morocco and the world. He won a Prize from L.A. Pincus fund for Jewish Education in the Diaspora. He would talk to parents of children in secular schools to explain the importance of placing their children in Torah schools.
He had a Lev Tov – a good heart. Many times his wife would prepare food for Shabbat. He would give it away to families in need. He would give away his Kosher meals to other Jewish people, who forgot to order, in air plane flights.
He had Ahavat Yisrael / Love of Jewish People. Once in Morocco Moshe (Paul) Reichman, the Real Estate Magnate, as a youth came there to escape the horrors of World War II. A youth, Rabbi Monsonago, welcomed him to his home, gave him his bed and shared the small food he had with him – some bread and a can of sardines.
Rabbi Aharon was welcomed by the Satmar Rebbi, Rabbi Yoel Teitelbaum.
At the time of the death of his father, Baba Sidi (Former Chief Rabbi of Morocco – Rabbi Yedidia Monsonego) when Rabbi Aharon Monsonego was sick and had gallbladder surgery, he dreamed of Rav Chaikin and Rav Yoel of Satmar (who had already passed away) who were heading towards the melah (old City) of Fez, Morocco. They told him to come with them and Rabbi Aharon replied, 'I have to join you later'. Today 26 av is the yartzeit of Rabbi Yoel of Satmar …
He had a way of speaking from the heart that enabled listeners to feel the words entering into their hearts. (Some of his audio lectures are available in French at the Dvar Torah site)
Rav Aharon was the crown of the Moroccan community. He helped to start communities in Morocco, and worldwide.  His presence will surely be missed.