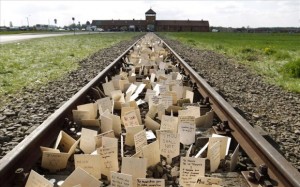 Almost 70 years ago, the Nazis committed genocide of over 6 million Jews. They used the guise of their Aryan "superiority" to implement their hatred and cruel machinations. They forced innocent people to walk through freezing snow with light clothing and then forcing them to dig their own graves. The madness seems unreal – but this is what 'civilized' man can descend to when morality is out of sync.
Their goal was to exterminate an entire nation – Genocide simply put. Hitler's dream was that he would parade down Fifth Avenue with the last Jew. The millions that died did not die in vain. A Jew that is murdered because he or she is Jewish died sanctifying the name of G-d and thus receives a high place in heaven.
Those who visit Auschwitz Concentration Camp rarely have a dry eye when they hear of the horror stories of the holocaust. We feel helpless and bewildered when presented with such cruelty. The question – "Why?" rings in the mind of people. Why did G-d let such atrocities happen? How could a large population of people stoop so low to together persecute innocent citizens of their own country?
The goal of this article is not to answer these question. It takes time and preparation and deep study to understand the ways of G-d.
The goal is to understand how we can gain and commemorate the greatest mass killing that happened in the history of the world.
It is obvious that the Aryan nation is the Nation of Amalek. The Nation that the Torah says "You shall not forget what Amalek did to you." When the Jews left Egypt, they boldly attacked the Jewish nation for no other reason than their hatred.
The Nazis wanted to destroy any trace of Judaism. Our Goal in commemorating the lost should be to perpetuate Judaism in the world. Here are some suggested activities for a person to understand and commemorate the memory of those lost.
1. Read Books with a Torah Perspective on the Holocaust. Here are several:
The Final Solution is Life
The Hidden Hand from Judaica Press
Holocaust Books from Feldheim
Holocaust Books from Artscroll
2. Speak and learn from Holocaust survivors – obviously one must be tactful in discussing matters with them.
3. Give Charity to Institutions that provide a Torah education. Here are some
4. Light a candle – with a prayer to G-d for the Six million who perished.
5. Educate Yourself in Judaism – The Nazis wanted Judaism to be forgotten. Educating yourself in Torah helps us to strengthen our nation. Many reputable Jewish sites exist see our Jewish links section.
6. Take Upon Yourself a New Mitzvah for their memory – Saying the morning blessings, saying the shema, saying the food blessings before eating or to light candles before Shabbat are all mitzvahs that take not much time but one will gain much from them. For information on how to do them – see our Freebies / Judaica Store Section
7. Send Your Child to a Torah School – Torah Day schools and many Afternoon and Sunday programs exist to help a child learn about their Jewish Heritage.
8. Attend an Orthodox Synagogue Service on Shabbat with your family to assure Jewish Continuity.
9. Speak with an Orthodox Rabbi to learn about Judaism's perspective on the holocaust.
10. Start a Class in your Home by inviting an Orthodox Rabbi to speak on Jewish topics.
Remembering what Amalek did to you is a mitzvah in the Torah. This is why many listen to the Torah reading on Shabbat Zachor (This year Feb 28, 15) before Purim – which talks about the mitzvah of remembering what Amalek did to you.
A Gentile who is moved to do something significant to commemorate those lost can accept upon themselves the 7 Noahide laws for all humanity.
Perpetuating Judaism is the greatest way we can commemorate those lost.