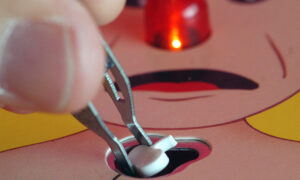 Put on your gloves. You have an angry man that you must disengage.
Remember the board game Operation. You had to remove items from a man's body. If your tweezers touched his body – you got a buzz and his nose lit up.
Kind of like the angry guy. You go a bit out his comfort zone and there goes the buzz of his words and his nose flares with anger.
It's not me it's him right?
The Relationship between anger and the nose
A side point – interesting that the word for "nose" in Hebrew as the same as "anger" in Hebrew – "af". I saw an article once that certain aromas of chemicals one emits in a certain emotional state can transmit an emotion to another person. Meaning if a person is angry, another person who smells them with their nose can be influenced also to become angry.
The Proper Reaction against anger
The Jewish people are called the people of the book. Not only because they read books – mainly Torah – but many live by the word of the Torah. A once popular show on private detectives – one detective would determine his next move based upon actors in certain shows he had seen. An observant Jew learns his next move based upon the deeds of great Torah observant people of the generation or in the Torah.
So what does the Torah propose as a "next move" or reaction to an angry person?
Someone recently got angry at me. I learned that the way to react was not the way I did with him. But at least I figured out what's a good move for the next outburst. Learn from my experience.
The Torah says in Pirkei Avot / Ethics of the Fathers (4:18) regarding Acting with Tact:
Rabbi Shimo'n son of Ela'zar says: Do not appease your fellow at the time of his anger. And do not console him at the time that his dead lies before him; And do not question him [ie, his intentions] at the hour of his vows & don't make effort to see him at the time of his degradation.
Don't appease him at the time of his anger. Meaning don't try to calm him down. Meaning – your attempt at calming him may have the opposite effect of your intention. Meaning you trying to calm him down might get him more angry. So now what can you do? Remain silent. His or her ranting and raving should prompt you to think what's the best reaction? and your answer should be silence.
(This applies, obviously, if the person is not violent. If the person is violent – you might want to choose flight rather than fight.)
The Fortiori Argument / Kal VaHomer
In Torah there is a logical construct called the Fortiori argument – it goes something like this:
If an average person can lift up this coffee table – surely the body-builder can pick up this coffee table.
Using that principle – don't appease your fellow at the time of his anger – thus even more so – should you not instigate him at that point. You will just make him more angry. Your objective is to get a point across – do it in a calm, private moment together – not when the person is about to burst.
You have two kinds of angry people – a person who has a bad temper but deep down is good. And a person with a bad temper whose nature is evil. Avoid the latter. Be patient with the first. If the first person is truly good, he will apologize after his outburst – if you don't respond in kind. If you respond with anger – you will have nullified his feeling of guilt. He'll think – I got angry – you got angry – why apologize? But if only one gets angry – the calm person has the upper hand.
King Solomon's Advice
Shlomo Hamelekh / King Solomon – the wisest man – "A Soft Answer turns away Wrath." (Mishlei / Proverbs 15:1) So – apparently – a soft answer is better than an all out yelling match. Don't you think?