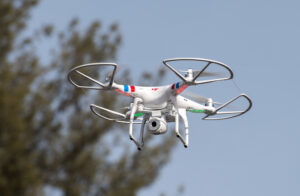 We won a Toy Drone at Avot UBanim (A program where Fathers and Sons learn Torah Together and win prizes). It was White and Orange.
Fancy controller.
We charged the battery, Installed it, turned on the drone and controller and took it outside.
Lift off. It flew up. Higher, Higher and Higher. I tried pressing all the buttons to make it come back, but it was gone. Out of site. It lasted about 2 minutes.
The practical lesson – before using a drone READ the instructions. Apparently learning to take off the and land safely are good things to know before you fly them. Explain the controls to the kids – so they know too.
Apparently G-d was teaching me several lessons through this experience.
1. The one mentioned above.
2. Before you fly read the instructions – meaning before you get involved in uplifting yourself spiritually read the instructions. Many a time a person wants to connect to G-d. What do they do – they try to fly without reading the instructions. What happens – they fly away to oblivion. They fly and are lost. When they reach the heavens – G-d asks them – why did you not follow my law?
They say "I did follow spirituality!"
G-d says – that wasn't what I wanted from you. I wanted you to follow my law.
"But How was I supposed to know what you wanted?"
G-d replies – "It is obvious – The Torah is the only Divinely given law that was given by Me before millions of witnesses."
Back to earth.
Why do people get lost in life? They did not read the instructions.
So what are the instructions of life?
The Torah. Why Torah? Because it is the only divinely-given code of law that whose giving was witnessed by millions of people.
Jews are given the 613 Commandments from the Torah. Gentiles are given the 7 Noahide laws to follow.
Apparently – one will not be able to say to G-d in Heaven  – I didn't know you wanted me to follow Torah. Why? Because when we go to buy a car – we didn't just walk into the first dealership and buy it. We investigate – what is the qualities I want from a car, what are cars that have these qualities, which cars have high safety and quality ratings and who is a reliable dealership.
Same thing in life. Same thing for religion.
One is obligated to investigate what is the true religion before they follow it. What is the true will of G-d before I start becoming involved in "humanitarian activities." Not first see how I feel about an issue and go forward. G-d's opinion is a prerequisite.
G-d knows more than us. He knows what will bring the world to the best state of perfection. If we disregard G-d we basically shoot in the dark. We fly away to a place far away – that might not necessarily be the will of G-d.
The third lesson: Put other's needs before your fanciful pleasures.
While setting up the Drone – I noticed two needy people  pass by. Involved with my toy – I didn't stop to give them charity. My priority in life should be to help others – even if I am in the middle of pursuing my pastimes – the needs of others should take precedence.
Many people will spend thousands of dollars to go on vacation. That's great. But our spending should also include helping others.
I am a big proponent of sending Jewish children to a Torah Day school – ones that fit the criteria required by the organization Torah Umesorah. Many parents – unfortunately – spend thousands on vacations and houses – and say they have no money to spend to put their children in a Torah day school.
It is a trick. A slight of hand of the evil inclination. Most priorities of parents include giving children proper values. Yet – many choose to give their children the toys of life – but neglect giving them a Torah education by sending them to Torah Day schools – that will provide them with the best values in life. Where they learn daily how to be a good person, the importance of doing kindness, the importance of helping others, honoring parents and all the basics and details about how to have good values.
The Greatest Kindness one can do for a Jewish child is to provide them with a Torah Day school education. It's the best preparation for life and the best manner of helping them to enjoy a meaningful life.
Don't let your drone fly away.
Learn the controls before you fly.